Our mission is to keep your lucky horse comfortable and safe.
When entrusting your blankets to us, please understand that all blankets will be washed and small repairs will be conducted routinely. If we discover excessive repairs are required, we will contact you with an estimate.
2023 Pickup Schedule
We pickup and drop off seasonally. The dates below are our only pickup dates and locations this year. All blankets picked up will be delivered between July and September.
The pickup schedule is finalized for 2023. If you would like to be added next year, you can still use the form below to send us your information.
May 16 - Toano / Williamsburg
Kentwood Farm
Westwood Winds
Willow Hill Farm
Dream Catchers
Merrymount Farm
Mattachanna Farm
Cedar Valley
May 17 - Williamsburg
Balmullo Farm
Emerald Ridge Stables
Stonehouse Stables
Drinkwater Equestrian
Hounds Tail
Colonial Williamsburg
May 18 - Manakin-Sabot
Running Cedar Farm
Merrifield Farm
Matoaca
Edgefield Farm
Cedar Hill
Rolling Run Farm
Dover Green Stables
Red Fox Farm
Applegarth
May 23 - Goochland and Charlottesville
Baileywick
Payton Hall
Spring Valley Farm
Hidden Pond Farm
Pine Orchard
Meadow Hill Farm
Knuckle Hill
Cadeaux Show Stables
May 24 - Ashland and Rockville
Sycamore Hall Farm
RMC - Coventry
Chestnut Oak Stables
Watermark Farm
Hidden Meadows Farm
Hillbrook Farm
Cedar Knoll Farm
Foxtrot Farm
Shallowbrook Farm
Field Crest
Breezy Knoll
Bent Tree Farm
Mill Creek
May 25 - Chesterfield and Powhatan
Hunter Lane Stables
Four Seasons
Stillbrook Farm
Cranberry Acres
Saddlebrook Stables
Tall Tales Equestrian
Oakdale Equestrian
Templar Farms
Zephyr's Way
May 31 - Tuckahoe
River Road Riding
Tuckahoe Plantation
James River Equestrian
Norwood Stables
Cedar Ridge Equestrian
Level Green
Fine Creek Equestrian
June 1 - Middleburg
Fitzgerald Stables
Stone Haven
Butcher's Run
MHM LLC
Middleburg Hunt Club
Cabin Branch Farm
Want to get your blankets picked up?
Our 2023 Schedule is set, but feel free to sign up anyways. We may be able to add on a last minute pickup later in the season!
Don't have the time to travel to our shop in Chesterfield? We offer seasonal pickup and drop offs. Currently we pick up in Richmond, Manakin Sabot, Amelia, Middleburg, Williamsburg, Charlottesville and everywhere in between. Pickups start in the second half of May and all blankets are returned between July and September.
Fill out the google form here and we will be in touch!
Sign up for our 2024 Pick Up Route!
2023 Spring Updates
The best time to drop off your blankets is is early spring to early summer! This way you can get your blankets back well ahead of when you need them again.
Email is the best way to get in touch! Inquiries@luckyhorsecleaners.com
Drop off blankets 24/7 day or night, place blankets in the drop box out front and include a service ticket found at the top of this page.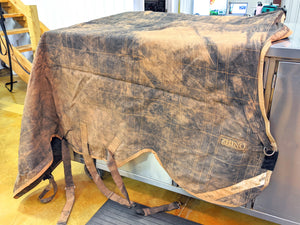 Before
Don't be afraid that your blanket is too dirty. We get blankets caked with Virginia red clay, dirt, and other unmentionables! Our washing machines are tough and can handle it all.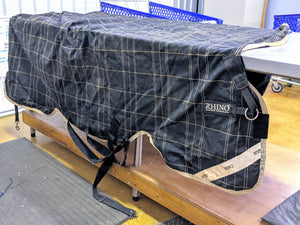 After
You can hardly tell it is the same blanket, but we guarantee you it is. Getting baked on dirt and grime off blankets is critical to their longevity. No blanket is too dirty to bring back to life.
Contact information
Shop Location - 7925 Cogbill Rd, Chesterfield, VA 23832 (please DO NOT send checks to this address, contact us via email for the address or pay online via the link in your invoice)
Email us - inquiries@luckyhorsecleaners.com
Blanket Shipping Address - Send me an email!
Shop Hours
Our hours vary significantly day to day, please send an email if you'd like to meet me in person. Email is always the best way to get in touch!
Laundering
At Luckyhorse we use industrial washing machines that are equipped to handle both the size and the amount of dirt found in horse blankets.
What do we wash with?
We use sodium percarbonate, an oxidizing agent that is completely safe for humans and horses. It is often found in things like toothpaste or other body care products.  
How does it work?
When water is introduced, sodium percarbonate turns into hydrogen peroxide which is great for getting out tough stains and sodium carbonate, also known as washing soda or soda ash. Tough oily stains are easily broken down and released from the fabrics due to sodium carbonates alkaline nature.
Is it safe and fragrance free?
Sodium Percarbonate is fragrance free and leaves no residues in the many layers of batting and fabric in horse blankets. This makes it safe for horses with even the most sensitive skin.
Where's the proof?
This stuff works like magic, and enables us to transform dirty stinky blankets into like new blankets. Check out our instagram for before and after pictures!
Can you wash my dog bed?
Yes! We can wash your dog bed or dog bed cover and just about anything else you wouldn't want to wash in your home machine.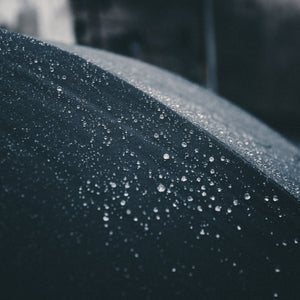 Water Repellant
Your blankets are treated with Durable Water Repellant (DWR) finish when they're first made.  This makes the water bead up and fall away.
Overtime with exposure to dirt, abrasion, and UV rays, this DWR needs to be cared for or reapplied.
Factors such as use, age, and material affect how well your blanket will retain it's water repellance and also how well it will receive new applications.
How does Luckyhorse re-waterproof blankets?
We use a Durable Water Repellant finish that is designed to be applied to wet blankets and then is set on low heat during the drying cycle. The DWR we use meets all current safety and environmental regulations.
Does washing my blanket remove the waterproofing?
Actually, it is the complete opposite. In order to refurbish waterproof finishes it is important to wash away dirt and reactivate the DWR finish by applying low heat.
How do I know if my blanket needs waterproofing?
Simply sprinkle some water on the blanket surface. Does it bead up and slide away? You're good to go!
If it sinks in and darkens the fabric, it's time to waterproof again.
Luckyhorse recommends re-waterproofing at least every other season with medium to light use. If you always blanket your horse, we recommend waterproofing every season.
Why do my newer blankets seem to have less effective waterproofing?
As waterproofing finishes have evolved, they've also improved from an environmental standpoint.  However, there is a trade off.  Environmentally more friendly DWR finishes are also slightly less durable.  This makes regular washing and even more important to maintaining your blanket's performance.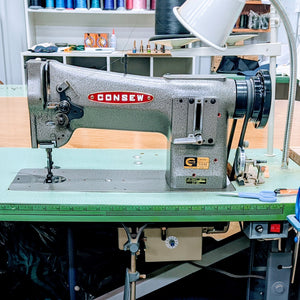 Repairs
It's amazing what horses can do to their blankets... or more appropriately it is amazingly frustrating! 
At Luckyhorse, we never claim to have seen it all, but we can repair just about anything you bring our way.
Our goal is to extend the life and water repellance of your blanket as long as possible. We will always repair exterior holes, but sometimes we choose to leave liner tears untouched.
Sewing Machines
We use industrial sized machines that are strong enough to sew through all the layers of even the most fluffy blanket and are also big enough to maneuver the most enormous and unwieldy blankets.
Our sewing machines are actually designed to sew sailboat sails and leather, thus making them perfect for horse blankets.  The stitches are strong and designed to last.
Thread
Blankets are an investment and we want to ensure they last as long as possible.  This means that our repairs need to hold up in the sun, dirt, and whatever else your horse can dream up.
We use bonded polyester thread designed to resist damaging UV rays and hold up to daily wear and tear.
Hardware and Webbing
It's amazing what a horse can do to a surcingle, but don't count your blanket lost! Luckyhorse has surcingles, snaphooks, slides and d-rings to repair any missing, bent, or broke hardware.
We use bonded polyester webbing to resist dry rot and damage from the sun and dirt when replacing belly straps.
Leg straps and butt straps
We can replace those too! If you want a few extra to have on hand, just let us know and we can add them to your invoice!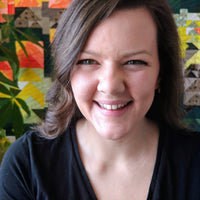 Hello!
I am Kristi, the owner and seamstress behind Luckyhorse. I took over from Jim and Stephanie in August of 2020 and have been loving every second of it.
After spending 8 years in the Navy, getting to clean and mend blankets in my home state of Virginia is a really lovely change.
When I am not sewing blankets I am sewing quilts, making ceramics, and growing flowers! Check out my instagram if you'd like to see my artistic side.
Get in touch if you have any questions! Email is always the best way!